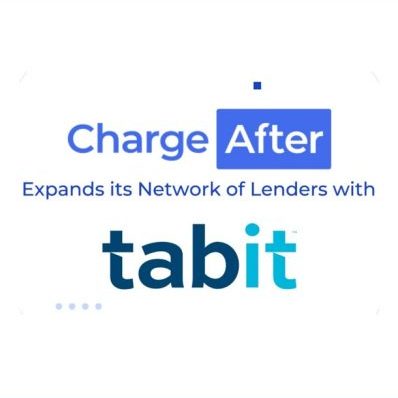 ChargeAfter expands lender network in Canada with leading B2B BNPL provider Tabit
ChargeAfter, the leading multi-lender point-of-sale financing platform announced today that it is expanding its network of lenders through a partnership with Canada's leading B2B Buy Now Pay Later (BNPL) provider Tabit,  powered by Merchant Growth.
As a result of the partnership, ChargeAfter will provide merchants in Canada with more financing options for their business customers at the point of sale. Financing options are very limited for businesses, resulting in low approval rates. To help merchants provide a solution for their business customers, ChargeAfter partners with financing providers that specialize in serving businesses.
Tabit is a B2B Buy-Now-Pay-Later solution powered by Merchant Growth. Merchant Growth was recently recognized as the fastest-growing B2B financing provider in Canada. Tabit's integration into the platform means that merchants that use ChargeAfter to manage their point-of-sale financing can now provide their business customers with installment options from 30 days to 12 months.
Elias Beaino, EVP, Tabit commented "We are thrilled to announce our partnership with ChargeAfter, a leading multi-lender platform. Through this collaboration, Tabit is able to offer its innovative B2B BNPL solutions to even more merchants. We look forward to working closely with ChargeAfter to bring flexible payment options to businesses and help them grow and succeed."
Meidad Sharon, CEO, ChargeAfter commented "We are delighted to partner with Merchant Growth to add their Tabit's B2B BNPL solution to ChargeAfter's network of lenders in Canada. This new partnership is an important step in our B2B financing program expansion. Embedded point-of-sale financing is fast becoming the new standard for the modern customer journey and I am excited that ChargeAfter's lending network is leading this change."