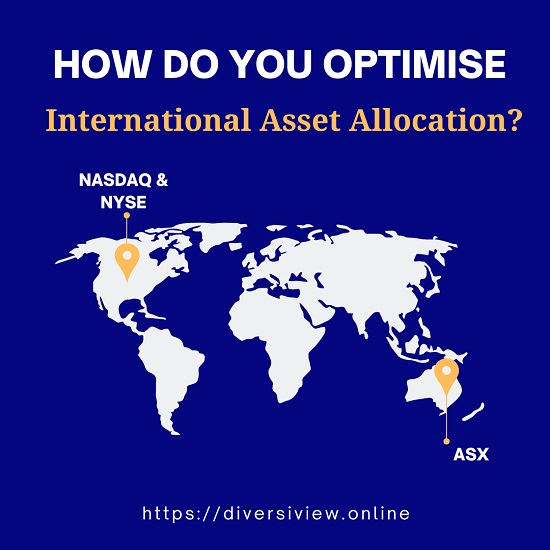 How do you optimise international asset allocation?
LENSELL has recently expanded the coverage of its flagship application Diversiview, to include the top 1000 US stocks by market capitalisation (from both NASDAQ and NYSE).
What is Diversiview?
Diversiview is a unique investment analysis and optimisation software, that enables retail investors and professional investment advisors to take their investment portfolios to the next performance level.
Users can analyse mixed investment portfolios for free, and calculate critical portfolio indicators including portfolio return, portfolio volatility, portfolio Alpha, portfolio Beta, and portfolio Sharpe ratio.
Furthermore, they can visualise their portfolio's risk-return position compared with thousands of other potential positions and figure out whether the current portfolio composition helps them achieve their financial goals.
Last but not least, users can freely visualise the granular diversification, at investment level.
From there, users have the option to use credit points to optimise their portfolios in several ways:
by calculating the weightings that can produce a portfolio position with minimum total risk (volatility),
by calculating the weightings that can produce the optimal portfolio position (that maximises the total expected return while minimising the total risk/volatility), or
by finding the weightings that give efficient portfolio positions (that maximise the portfolio expected return for a given level of portfolio risk) – that is, positions on the Efficient Frontier for that set of investments.
This way, the user has complete control of how their portfolio is constructed and can fine tune the composition using a personalised allocation approach towards the own goal.
With ability to analyse and optimise mixed portfolios (AUS and US listed stocks, unlisted investment funds and other asset types) of up to 40 investments, this is a unique application in the wealth management space.
Why does Diversiview include NASDAQ and NYSE Stocks? 
Traditionally, Australian investors have diversified their investment portfolios into overseas markets, and US has been the most popular overseas market by far when it comes to portfolio diversification.
Although currently financial markets are quite volatile, many Australians know and love US brands and trust their resilience.
Following users' requests, US listed securities have been added to Diversiview, so investors are now able to identify performant US investment opportunities, construct a diversified portfolio across Australian and US markets, and boost their portfolio's performance by optimising the asset allocation to include US stocks listed on NASDAQ and NYSE.
The asset allocation optimisation feature is unique on the market – there are many trading applications allowing investors to buy and sell US listed securities, but only Diversiview allows them to analyse the overall portfolio's performance and optimise the asset allocation for mixed portfolios.
Currently the top 1000 US listed stocks by market capitalisation are available in Diversiview, with more US stocks being added soon.
Analysing and optimising a portfolio with Diversiview is very easy: investors simply enter the code or name of the asset, or upload larger portfolios from CSV.
For Sharesight investors, the integration between Diversiview and Sharesight allows them to import and analyse their mixed portfolios in seconds.
LENSELL continues to listen to its users' requests and to add impressive and unique features to Diversiview.
Get a free account and try Diversiview today. Do better, get more from your portfolio.
If you have any questions, please contact the team at: [email protected].