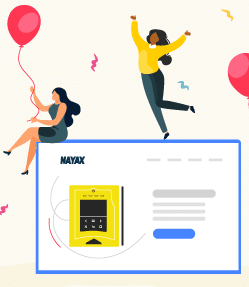 Nayax launches new ecommerce site for online purchases of complete cashless payment solution
Nayax, the leading cashless payment provider for merchants and unattended retail is excited to announce the launching of their new ecommerce capabilities. The Nayax shop, found at https://shop.nayax.com/, will allow new and existing customers to directly purchase Nayax devices and accessories at a highly competitive rate. The ecommerce site is available to all unattended verticals including vending and pulse-based verticals such as laundromats, amusement, car washes, and more. The site will lead customers through the process ensuring that they choose the correct devices and cables for their machines, no matter in which industry the customer works. In cases where there are questions, customers will be able to reach out to a consultant to receive guidance as to which products are right for them.
The Nayax ecommerce site will be available only to the US market for the initial launch. Future country support will be quickly rolled out over the coming year.
Nayax has invested months in streamlining and automating the onboarding and KYC processes to enable quick and easy acceptance of customers. In addition, the extensive online support provided by Nayax University, the smart tips in the Nayaxvend management suite and chat tools gives users access to an extensive knowledge base, walking customers through the steps needed to begin using Nayax's products immediately upon receipt. At the same time, these resources provide a wealth of information that customers can access at their convenience to learn more about how to get the most out of the Nayax features.
In addition to these online resources, Nayax has continued to enhance live customer support, with ongoing webinar sessions, live chats, and extended customer support hours across their local offices.
"In recognizing that our customers exist in a 24/7 world, it's exciting to offer a 24/7 automated environment for support and purchasing Nayax's solutions. Being able to reach our customers at any time of the day or night ensures minimal downtime, while expanding growth opportunities," said Yair Nechmad, CEO, Nayax. "In addition, providing customers with solutions to expand their skills and learn about additional features when convenient for them, delivers increased sales and improved productivity. We're proud to be the first payment provider to deliver our customers an all-inclusive 24/7 solution."
"Our goal is to provide our customers the tools and resources needed to increase their sales, easily reach their users to build consumer engagement and improve productivity," said Keren Sharir, CMO, Nayax. "Across Nayax, our teams have worked to provide customers a seamless experience from onboarding to daily use to payments to reordering. We're looking forward to see how these comprehensive tools can enrich our customers' businesses."