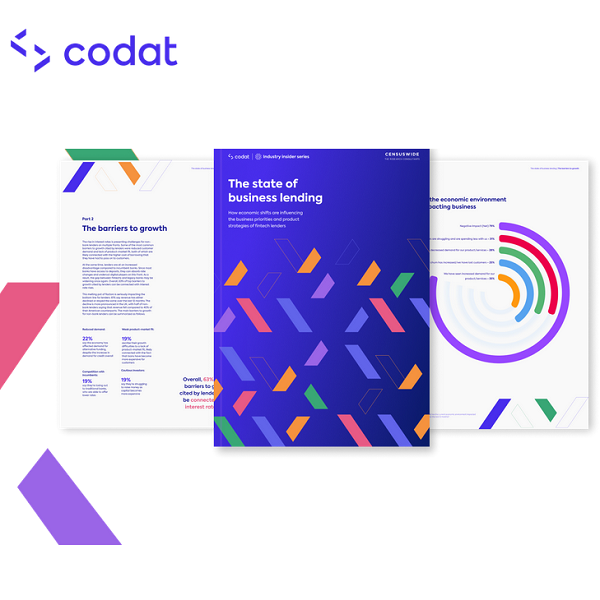 New fintech report: Non-bank lenders are demonstrating resilience in the face of a tumultuous economy
A new report from business data API provider Codat shows that business lenders are continuing to innovate and evolve their offerings despite current economic challenges. The study of 115 business lenders in the US & UK shows providers are adapting their strategies and priorities to narrow in focus on operational efficiency, retaining current customers and launching new lending products.
Tumultuous economic conditions are hitting non-bank lenders hard – 79% reported that the economy has had a negative impact on their operations. Digital lenders are seeing a rise in default rates (41%), and as a result are tightening lending standards to manage risk.
As a result of the current economic conditions, growth is becoming increasingly difficult for lenders, with the main barriers to growth being reduced customer demand (22%), competition from established players (19%), the inability to raise additional funds (19%), and a lack of product-market fit (19%).
However, despite these obstacles, some lenders still see new growth opportunities. One in five lenders are planning to expand to new geographies, 17% plan to expand their teams in the next year, and 40% say their business has grown over the last 12 months, according to the report.
Shifting strategy: How digital lenders are overcoming turmoil
Mark Zuckerberg said efficiency would be the management theme for Meta in 2023, but it's turning out to be a theme across the technology sector at large – with digital lenders being no exception. In response to these economic challenges, 64% of the non-bank lenders surveyed say efficiency is a top priority. In order to achieve this, most lenders are focusing on the following three strategies: improving customer retention, reducing business costs and lowering defaults.
In the UK for example, 36% of respondents said they were looking to reduce default rates by making better use of data. In the US, 34% plan to do the same, as well as improve internal processes in order to reduce underwriting and loan serving costs.
"There's been dramatic changes for entrepreneurs over the last several years," said VP Product & Design at Ampla, Tui Allen. "And we've seen traditional banks, even fintech, not always keep up. We've worked quickly to evolve with our customers, moving from a single lending solution to a platform that facilitates payments across the consumer brand ecosystem via digital banking, bill pay, insights, and corporate cards to our customers – all in the last 18 months. Our partnership with Codat allows us to take a full 360-degree view of our customers' business as we evaluate them, including eComm, wholesale, retail, and marketplace data which is so important as brands move to a more omnichannel strategy."
When it comes to product strategy, lenders aren't shying away from making changes – 36% of lenders are looking to launch new lending products in response to market challenges. With non-bank lenders at a disadvantage compared to incumbents in this economy, providers are adapting how their credit products are structured and presented to establish a stronger product-market fit, something that 19% said they were struggling with.
Additionally, lenders are making changes to their target market. Industry specialization is rising as lenders focus on verticals with strong demand, making customer acquisition more cost-effective and appealing to specific markets. Lenders are honing in their market focus by: targeting larger businesses (31%), specializing in lending to particular industries (38%) and moving away from segments where they have low product market fit (35%).
Optimism holds strong for digital lenders
While the high-interest rate environment has put a strain on non-bank lenders, they remain optimistic about their future, as evidenced by investments in geographical expansion, hiring, and reducing burn rate to shore up business in the short term.
"From conversations with our business lending clients, it's clear that parts of this segment are demonstrating impressive resilience." commented Ed Sherrington, Head of Product for Banks and Lending at Codat. "Rather than reducing their appetite to experiment with new ways of working, many are leaning in to address increased levels of risk and a greater need for efficiency by making better use of data. The market is certainly challenging, but we've seen digital lenders with a tightly defined target audience and clear differentiation continue to thrive despite headwinds."