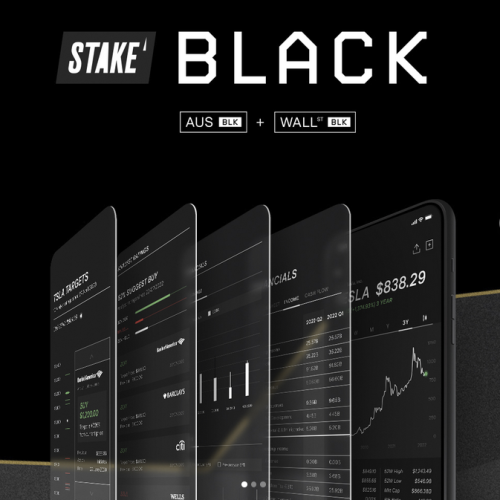 Stake Black brings Premium U.S. and Australian trading tools to help ambitious investors access new opportunities
Stake, the Australian investment platform, has today launched its new Stake Black membership, bringing sharper trading tools for the U.S. and Australian markets together for the first time. This includes in-depth data for all ASX equities, plus features such as instant buying power and analyst ratings for U.S. stocks.
This comes as Stake hits the milestone of over one million trades on the Australian market and reaches $2 billion in assets under administration.
Oliver Berger, Chief Product Officer at Stake comments, "Stake's traditional offering breaks barriers to the U.S. and Australian markets through an unrivalled user experience. The original platform has more than enough for most investors, but Stake Black is perfect for those that trade frequently, or simply want to expand their knowledge. By bringing premium U.S. and Australian trading tools together as part of Stake Black, ambitious investors can choose to access more within the Stake experience they love."
Sharper Trading Tools to Take Investing to the Next Level
Stake Black gives members more control of their investing journey, with features that enable a faster response to market movements, data to inform investment strategies, and access to a broad range of global securities.
New and existing customers are eligible for a 30-day free trial of the new package, moving to A$20 per month, or A$17 per month when billed yearly. This includes:
In-Depth ASX Data to Help Determine Sentiment, Liquidity and Resistance Levels: access to level 2 data for all ASX equities, including full course of sales and market depth tables, displayed in Stake's intuitive interface.
Access to Unsettled Funds for U.S. Stocks for Faster Trading: instant buying power allows funds from U.S. securities to be reinvested immediately, compared to the industry standard settlement time of the trade date plus two days.
Full Financials for U.S. Securities to Support Simpler In-Product Research: stats covering the last eight quarters of cash flow, income, and balance sheet statements for U.S. stocks and ETFs make it easy to stay across the details.
Added Clarity Through Analyst Ratings and Price Targets for U.S. Stocks: investors can access up-to-date ratings from major sell-side banks, to find new ideas, support their own research or decide to go against the grain.
Diversification Beyond the U.S. and Australia with Over the Counter (OTC) Securities: Stake Black makes it easy to diversify outside the US and Australian markets, with over 100 large OTC stocks from brands such as Adidas, Nintendo, and Heineken.
Customers can also tailor their experience based on needs. US or Australian-only features are available for A$14 per month, or $12 per month when billed annually.
Berger continued, "Since launching Stake Black with U.S.-only features last year, we've seen strong uptake among more frequent investors—with the average Stake Black customer trading around 18 times per month, compared to just over twice per month for those using regular Stake accounts. By bringing support for Australian features as part of Stake Black, investors now have access to even more opportunities."