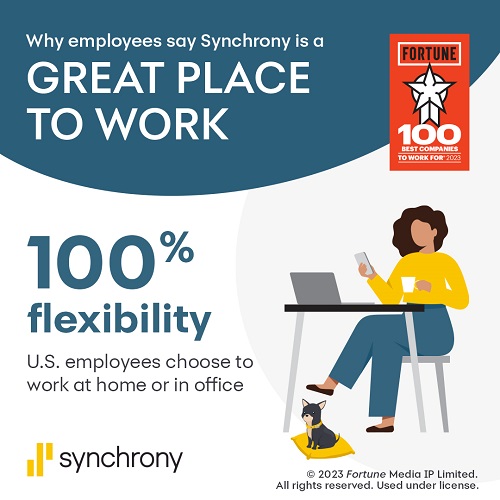 Synchrony named Top 20 best company to work for in the U.S.
Synchrony (NYSE: SYF) has advanced to number 20 on the 2023 100 Best Companies to Work For® list in the U.S. by Fortune magazine and Great Place to Work®. Earning this recognition means that Synchrony has surpassed rigorous benchmarks, establishing itself as one of the nation's best places to work. The ranking, based primarily on employee feedback, underscores the company's commitment to innovate the employee experience and how work gets done by caring for its people, building a new leadership model and advancing equity, diversity and inclusion.
This is the sixth consecutive year Synchrony has earned the coveted honor, demonstrating that putting people first by acting and innovating on employees' needs creates a great place to work and drives greater employee engagement, retention and business outcomes.
"Now more than ever, companies must adopt new ways of thinking and forgo old paradigms to meet the needs of a changed workforce," said Brian Doubles, President and CEO of Synchrony. "We understand that people are the heart of our business. Listening to their ideas and concerns helps us evolve our strong culture, leading to greater innovation and business growth. We have embraced a new way of working centered on flexibility, choice and well-being. And we will continue to build an equitable workplace that works for all."
At Synchrony, hourly employees and women represent the workforce majority. In the most recent Great Place to Work employee survey, 92% of Synchrony employees say this is a great place to work (compared to 57% at a typical U.S. company) and 93% say the company's way of working gives them the flexibility they need.
"We have found that when we listen and act on what our people need, we can nurture the culture we're all proud of," said DJ Casto, Executive Vice President and Chief Human Resources Officer of Synchrony. "We will continue to work together with our employees and design flexible work options, innovate on coaching to build high performing teams, provide industry-leading wages and benefits and advance equity for all."
The company's people-first investments include:
Flexibility and choice: The company continues to go all in when it comes to offering flexibility and choice, allowing employees to work from home (full-time or part-time) or in the office. Synchrony also offers flexible work options to better support hourly employees' needs. New approach to performance management: In 2022, Synchrony replaced legacy annual reviews and ratings with more frequent manager-employee coaching and performance discussions, cultivating trust and accountability.
Total well-being: Synchrony provides a wide range of mental health initiatives and wellness resources, including a roster of 15 diverse well-being coaches dedicated to employees and their families, a sabbatical program where employees can take time off (up to a year), career coaches and financial wellness counseling.
Pay equity and industry-leading wages: Synchrony backs up its commitment to fair and equitable pay with industry-leading wages and opportunities for employees. U.S. hourly employees receive over $20 per hour minimum wage. The company has also paid hourly frontline associates bonuses every year since becoming a standalone company, including a one-time $1,500 inflation bonus in 2022. Synchrony has made investments to meet and maintain 100% pay equity across genders and racial/ethnic groups.
Support for working parents: The company offers 22 weeks of paid maternity leave for birthing parents (among the top in the industry) and 12 weeks of paid parental leave for all new parents. Synchrony also provides up to 60 days of emergency backup childcare benefits and eldercare as well as enhanced fertility and family planning benefits.
Advancing equity, diversity and inclusion: Synchrony has been successful in hiring, developing and advancing diverse talent through a data-driven approach. The company also redesigned its leadership development programs so high-potential talent can gain executive sponsorship and mentorships. As a result of these efforts, nearly 40% of promotions at the vice president or higher level were ethnically diverse and 50% were women. Through Synchrony's Mosaic Leadership Institute, robust career development programs include:

Women's Leadership Experience: A nine-month experience to help cross-functional, vice president-level women leaders accelerate personal growth.
Strategic Pathways: A nine-month immersive program for senior executive mentors to coach vice president-level participants on how to grow their career.
Fellows: Participants engage in networking opportunities with executive leaders to grow the skills required to become a senior vice president.
Leadership Experience for Advancing Professionals (LEAP): Associate vice president talent gain access to leadership coaching and senior leadership sponsorship.

Skills training and education: Industry-leading skills initiatives, including tuition benefits and debt-free tuition options of up to $20,000 annually and up to $9,000 per year for technology certifications. The company's focus on skills over degrees has expanded career opportunities. In partnership with OneTen, Synchrony has hired nearly 900 Black employees without college degrees since 2021. The company has also hired more than 960 Hispanic employees without college degrees. Synchrony has launched a non-degreed professional development pilot with more than 200 employees and a year-long tech apprenticeship program to prepare individuals with nontraditional backgrounds for fast-growing fields of AI and cybersecurity.
Methodology
The Fortune 100 Best Companies to Work For list is one of the most respected and comprehensive measures of workplace culture and talent management best practices. To determine this year's honorees, Great Place To Work analyzed the anonymous survey responses of more than half a million employees from Great Place To Work Certified™ companies with at least 1,000 workers. Survey responses reflect a comprehensive picture of the workplace experience. Companies also submitted essays describing their efforts to offer generous and innovative support for workers, which were validated against employee survey responses. Honorees were selected based on their ability offer positive outcomes for employees regardless of job role, race, gender, sexual orientation, work status, or other demographic identifier.