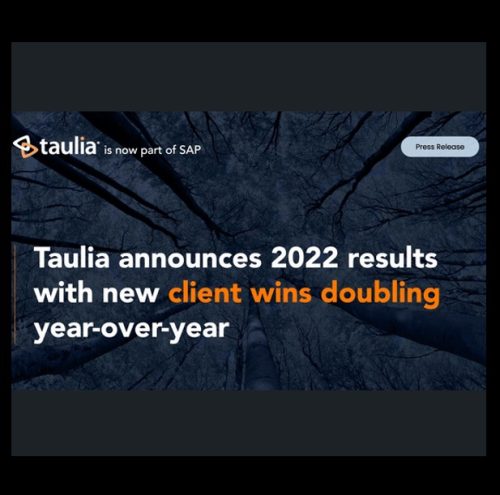 Taulia announces 2022 results with new client wins doubling year-over-year
Taulia, a leading provider of working capital management solutions, celebrates a landmark year in 2022. Following Taulia's acquisition by SAP, the world's largest provider of enterprise application software, it has seen rapid increase in new customers and growth in its network to over 3 million suppliers.
In 2022, the business has more than doubled the number of new client wins compared to 2021, including signing international businesses such as Dole Asia, Hapag-Lloyd and World Wide Technology (WWT).
WWT Executive Board & WWT President & MD International, Omar Mir said, "Taulia is a key partner to us and has supported us in achieving sustained growth during a period of economic uncertainty for our customers. Their innovative and flexible approach to Working Capital Management, strategic vision, and the backing of SAP enables our business to run better and provide a best-in-class experience for our customers."
Other achievements in 2022 include:
Added new product capabilities for Accounts Receivable Finance and Sustainable Supplier Finance
Established a strategic partnership with Standard Chartered Bank
Grew its network of funding partners by 25%
Increased headcount to more than 425 employees globally
Appointed Danielle Weinblatt as Chief Product Officer and Steve McDermott as Chief Sales Officer
"2022 was a pivotal year for Taulia," said Bob Glotfelty, Chief Growth Officer, Taulia. "Working alongside SAP, we've been able to amplify the impact we have on businesses both large and small, allowing them to accelerate their working capital and navigate a challenging economic environment. I couldn't be more excited to see what we can achieve together with our customers and partners in 2023."