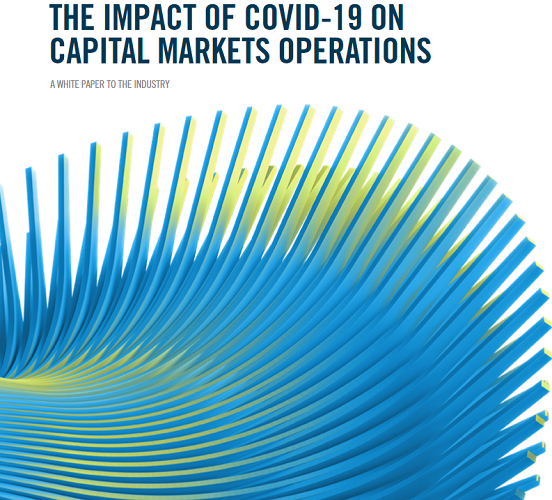 The Impact of COVID-19 on Capital Markets Operations
The Depository Trust & Clearing Corporation (DTCC), the premier market infrastructure for the global financial services industry, today published a white paper examining how capital markets operations responded during the COVID-19 pandemic and where market participants are focused in a post-pandemic future.
In a new white paper, "Managing through a Pandemic: The Impact of COVID-19 on Capital Markets Operations", buy and sell-side firms reported that, while their post-trade operations (Ops) and operations technology (OpsTech) proved largely resilient during the pandemic, several key challenges emerged as market volatility surged throughout 2020. The study was conducted with research assistance from McKinsey & Company, and was based on insights from Ops and OpsTech professionals at 35 buy and sell-side firms. The top areas of focus highlighted were:
Cash fixed income and cash equities were most impacted by the pandemic-induced market volatility, with 30-35% of firms across the buy-side and the sell-side reporting operational post-trade processing challenges in these asset classes.
From a processing perspective, settlements/payments and collateral/valuations were impacted the most, with 58% of sell-side firms reporting challenges in settlement and payments during the peak of the pandemic.
Buy-side firms typically experienced less disruption to post-trade processes than sell-side firms due to simpler operational models, with the sell-side reconciling breaks and settling trades across hundreds of counterparties.
The sudden transition to a work-from-home operating model was achieved almost seamlessly, and in most cases within a matter of days, due to the ability to implement tactical changes to operating models.
Respondents cited that efforts made in recent years to re-engineer and automate processes and upgrade technology platforms were the main reason for firms' resilience during the pandemic and their ability to manage an unusually prolonged business-continuity planning (BCP) event. A significant majority of respondents stated that the pandemic validated their Ops priorities and investment plans.
Michael Bodson, President & CEO at DTCC, said, "During, and in the immediate aftermath of the COVID-19 pandemic, the industry remained resilient, with buy and sell-side firms working seamlessly to support unprecedented volumes and ensure uninterrupted trading for clients and underlying investors. However, opportunities remain for further optimizing post-trade processes across the capital markets."
The survey highlighted that while the pandemic did not create an impetus for change in Ops and OpsTech due to largely resilient operations, a consensus emerged around where firms should focus next:
Sell-side and buy-side firms are aligned on the need to further simplify and standardize a sub-set of post-trade services which were hardest hit. For the sell-side, these include making enhancements to reconciliations and confirmations capabilities, while the buy-side prioritized an increased focus on fails and collateral management.
More than half of firms who responded to the survey plan to increase capacity, build new capabilities or re-engineer post-trade processes.
Respondents highlighted the need for a continued focus on shortening settlement cycles due to the impact of the unprecedented trading volumes and volatility on liquidity and margin. More than 50% of firms plan to increase capacity in support of these processes.
The stigma around working from home and productivity no longer exists, with many firms planning to retain part of the remote and flexible working model post-pandemic across post-trade operations.
Bodson added, "As the impact of the pandemic continues to unfold, firms must keep their focus on delivering continued improvements to efficiency, while reducing risk. At the same time, to unlock new sources of value and remain relevant to clients, a focus on innovation will be essential. The industry will need to embrace collaborative approaches, common processes, best practices and deploy operating models that continue to meet the evolving needs of market participants."