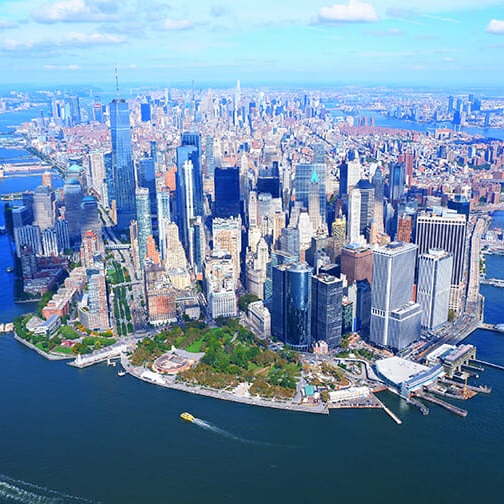 Australian AI fintech Rich Data Co makes it in New York
Rich Data Co (RDC) is a fast-paced Australian AI fintech that is making tracks in the US market.
In 2022, the Sydney-based artificial intelligence (AI) startup attended Austrade's New York Fintech Landing Pad. The 2-week program delivered invaluable contacts and market insights.
RDC Co-Founder and Chief Customer Officer, Gordon Campbell, says his experience shows that small Australian fintechs can find a way into large, complex and highly competitive American markets. One year on, he is confident of imminent, rapid growth.
"The New York program was a real eye opener," he says. 'Austrade helps you make unparalleled connections. I came back from the US knowing that our market-entry strategy was doable. We anticipate we will close on multi-million dollar deals in the next few months.'
AI developed in NSW creates fintech IP
Founded in 2016, RDC devised a credit assessment engine that uses AI to help lenders understand their customers' borrowing needs. What makes RDC different is its focus on lending to businesses. With RDC technology on board, banks can expedite lending requests from small businesses, while better managing risk.
RDC has worked closely with the University of New South Wales, and University of Technology Sydney to develop its AI platform. Today, the company executes all its design, and research and development (R&D) in Sydney.
The company has around 60 employees, with 13 working overseas in Singapore and the US.
Fintech ambitions in North America
In 2022, RDC wanted to expand in the US.
"There are about 4,000 operational banks in the United States, so the opportunity is tremendous," said Campbell.
"Although we're a small Australian AI fintech, we have a big commercial advantage. We have very few direct competitors. Analysing credit worthiness for businesses is far more complex than analysing credit worthiness for individuals. That's where our AI-powered platform works – it can cope with far more variables."
Campbell's challenge, however, was time and money. Learning how to crack the US market was a daunting prospect. RDC needed a viable market-entry strategy without the huge investment of employing someone permanently in the US.
Fintech and Austrade open doors in New York
In May 2022, RDC joined Austrade's New York Fintech Landing Pad program, which included a presence at the Fintech Nexus Conference in New York.
Austrade New York works with a US-based accelerator called WEVE Acceleration to help deliver the program. This meant RDC gained practical help from a New York specialist that focuses on helping overseas startups.
Campbell says the results were amazing.
"We met mentors and advisers during the market entry program," Campbell said. "We were able to talk to a number of the top 150 banks in our target market. We validated our market entry model and the assumptions behind it.
"We were also able to ask lots of legal and structural questions – and get answers to practical issues. There were a range of valuable workshops including with lawyers, software pricing experts and industry salespeople.
"This means we understood the challenges of entering the US market. We validated that the business opportunity we had identified in Australia was directly translatable to the US market."
Perfect pitch
One great benefit of the program was learning how to tailor their pitch to a US audience given the differences in pitching style and doing business.
The program worked on a commercial level. RDC made the vital contacts it needed. The company now has a resale partner in the United States and is confident of rapid growth.
"We have a very active sales pipeline in the US," Campbell said. "In 2 to 3 years we will have more employees in the US than in Australia. Austrade advisers have been very supportive the whole way through. I've been surprised how a small organisation like ours can get such support overseas."