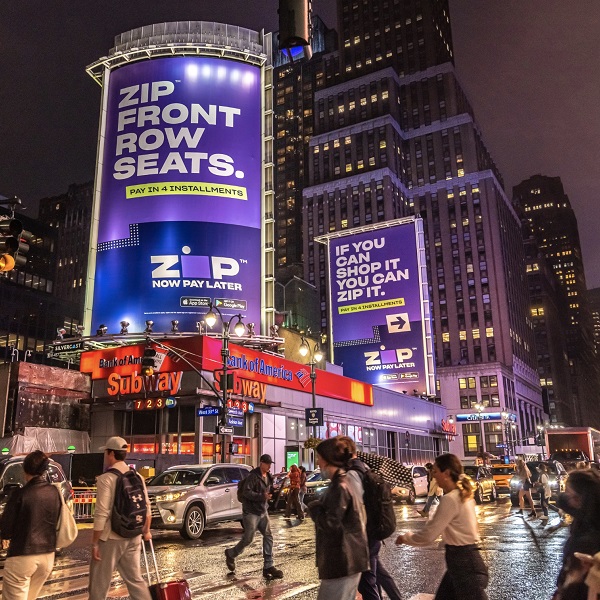 BNPL leader Zip launches 'Zip Now, Pay Later' campaign across the U.S.
Following its global rebrand, digital payment pioneer Zip Co Limited has revealed a new multi-million dollar brand campaign – 'Zip Now, Pay Later' – across the U.S., to attract new customers to merchants ahead of the holiday shopping season. From TikTok dance challenges to 'earworms' stuck in our heads and glam tips for Zoom calls, 'Zip Now, Pay Later' spotlights meme-worthy moments that have captivated millions, all demonstrating that Zip is not only part of the same cultural zeitgeist, but also the payment option of choice for modern consumers who are increasingly shunning credit cards for flexible, transparent digital payment options everywhere they shop.
The jewel of the 360-degree campaign is an edgy, attention-grabbing 30-second film – 'You Can Zip That'- featuring A-list celebrities also seen across the other multi-channel creative assets like OTT, social media, influencer partnerships, OOH, and other innovative elements.
"As the fastest-growing buy now, pay later company in the U.S., Zip's brand campaign is as bold and ambitious as our mission to be the first payment choice for consumers everywhere, everyday," said Zip U.S. CMO Jinal Shah. "This heavyweight brand campaign is a major milestone in delivering on our promise to supercharge brand awareness in the U.S., attract new customers to Zip's digital payment offerings and drive continued success for our merchants and partners ahead of the holiday shopping season."
The OOH portion of the campaign debuted last week in New York and Los Angeles with splashy billboards stating 'Zip All This.' Strategically located in major destinations and shopping meccas like Times Square and posh thoroughfare Wilshire Boulevard, the billboards inform passersby that they can use Zip as a payment option for all the things surrounding the billboard – even things featured in other ads. The same "hijack" approach will be deployed digitally on YouTube and Pinterest, as well as through strategic partnerships with influencers across a broad set of interests.
This is the first U.S. multi-media campaign in Zip's history and will serve to further increase brand awareness in 12 markets in the United States.