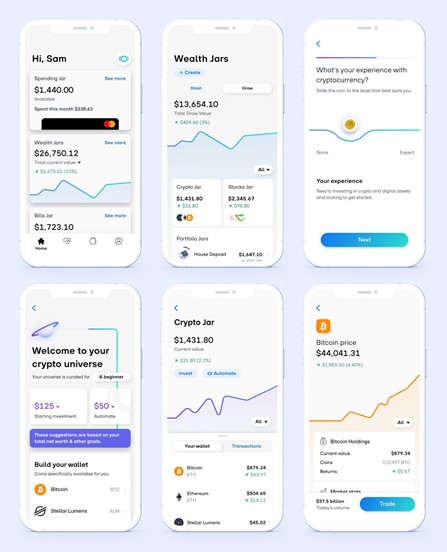 Douugh partners with Zero Hash to launch integrated crypto offering
Australian Stock Exchange-listed Douugh announces it has partnered with Zero Hash to integrate cryptocurrency wallet and trading capabilities into the Douugh app.
The partnership will initially allow US customers to buy, hold and sell crypto in the US directly through Douugh's Crypto Jar feature on the Douugh platform. In terms of buy and sell trading capabilities, customers will be provided with real time cryptocurrency quotes which they will be able to transact via the offering.
Customers will also be able to spend using the cryptocurrency of their choice through the Douugh Mastercard debit card, with the cryptocurrency seamlessly converted on the backend to USD for the spend.
"Cryptocurrency is now at a maturity point that it has become a favored investment for millennials and    gen-z who are hungry for yield and access to liquidity. The key for us is facilitating this activity responsibly," said Andy Taylor, Founder & CEO of Douugh.
"For the next generation of investors, cryptocurrency is becoming an essential component of one's overall diversified investment portfolio, and we are excited to partner with one of the largest and most regulated exchanges in the digital asset space to provide our customers with the ability to grow their cryptocurrency savings over the long term."
Zero Hash is a digital asset settlement and custody platform that specializes in building enterprise-grade solutions. It is registered in the US with FinCEN and can operate in 51 US jurisdictions as a money service business, money transmitter, or virtual currency business and it holds a BitLicense charter issued by the New York Department of Financial Services. Zero Hash is one of the most trusted operators in digital assets. Through its platform, Zero Hash powers the cryptocurrency offerings of other leading fintechs such as MoneyLion and Wirex.
This feature further broadens the Douugh Wealth offering, which recently saw the launch of managed portfolios 'Portfolio Jars' linked to dedicated savings goals.
"We agree that there is a clear generational change in how people invest their money, and crypto offerings give fintechs like Douugh a competitive edge to serve millennials and gen-z. Zero Hash is a turnkey solution that makes it easy for enterprises, like Douugh to enable crypto,"  said Edward Woodford, the CEO at Zero Hash. "This partnership allows Douugh customers to access an exciting new asset class while Zero Hash manages the underlying infrastructure and regulatory complexity of crypto markets."
The Crypto Jar offering will allow consumers to directly participate in digital asset investing commission-free and diversify their portfolios across cryptocurrencies including Bitcoin (BTC) Bitcoin Cash (BCH), Ethereum (ETH), PAX Gold (PAXG), and Litecoin (LTC) to help grow their savings over the long-term, as well as transfer their existing assets into a secure wallet.
The global market for cryptocurrencies surpassed $2 trillion earlier this month, and around 15% of Americans hold some type of cryptocurrency. As US household incomes continue to rise in the wake of the pandemic, Douugh's Crypto Jar will allow even more Americans to participate in the decentralized financial ecosystem.
The partnership with Zero Hash commences immediately for an initial 3-year term.