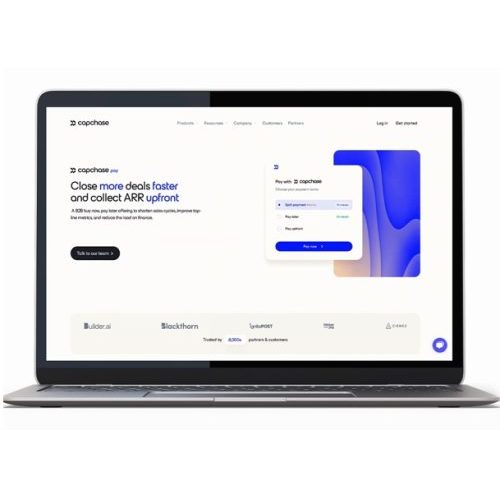 Capchase launches Buy Now, Pay Later product to supercharge business growth for SaaS companies
Capchase, the leading provider of non-dilutive growth capital, announced the launch of Capchase Pay, a financing and payment product created to decrease the length of Software-as-a-Service (SaaS) sales cycles and close deals faster. With Capchase Pay, SaaS companies are able to collect the full contract value for their solutions while providing customers with flexible payment terms. These vendors can now increase their working capital, accelerate revenue growth, and open up their products to thousands of small businesses.
The SaaS industry faces a unique mismatch in return on investment: SaaS companies pay high upfront costs in research and development and sales and marketing which they need to recover as quickly as possible, while their customers typically want to pay monthly. SaaS companies incentivize upfront payments with large discounts, which hurts their revenue and impacts retention after the first year.
Over the past year, Capchase found more than 50% of SaaS companies experienced an increase in sales cycle length and customer payment delays, and almost 40% of companies increased their collection times as a result. Capchase Pay's flexible payment terms allow SaaS companies to get paid upfront while making products and services more accessible and easier to pay for, which can drive sales, increase revenue, and shorten sales cycles.
"Every buyer wants to pay as late as possible, while every SaaS company wants to get paid as early as possible so they can recover their customer acquisition costs," said Miguel Fernandez, co-founder and CEO of Capchase. "In any of the payment options, one party is playing bank, which creates friction and hurts conversion. With Capchase Pay, we've created a B2B version of a buy now, pay later product that aligns with everybody's interests."
Companies using Capchase Pay can prepare quotes automatically while offering their customers flexible payment options, including bank transfers and credit cards. Capchase has signed 20 SaaS companies to the beta release and early customers have experienced a 300% increase in sales velocity, an 80% increase in lifetime value, and a 20% annual contract value increase.
"Within one month of implementing Capchase Pay, we grew our pipeline from low, single-digit prospects for our 12-month SaaS contracts to 50 with an average deal size of $100,000," said August Keating, COO of CIENCE. "Not only has it enabled us to close deals in half the amount of time, but our customers are happy knowing they have the ability to choose flexible payment options that work for them."
To further its product innovations and meet increased demand, Capchase announced an $80 million Series B round in March 2022 and later secured an additional $400 million in debt financing. Additionally, Capchase announced partnerships with AWS, Xero and Stripe, accelerating access to non-dilutive capital for even more startups and providing them with market-leading services, including its tailored financial insights service, Growth Advisors.
Capchase operates globally and can deploy non-dilutive capital in ten countries across North America and Europe with further expansion plans in 2023.