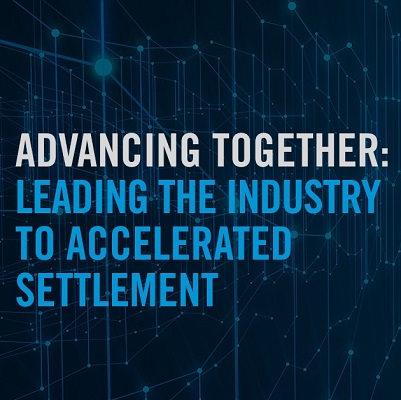 DTCC proposes approach to shortening U.S. settlement cycle to T+1
The Depository Trust & Clearing Corporation (DTCC), the premier market infrastructure for the global financial services industry, today released a two-year industry roadmap for shortening the settlement cycle for U.S. equities to one business day after the trade is executed (T+1). In its latest paper, "Advancing Together: Leading the Industry to Accelerated Settlement," DTCC highlights the immediate benefits of moving to a T+1 settlement cycle, including cost savings, reduced market risk and lower margin requirements as well as the firm's plans for galvanizing the necessary support for the project across a wide range of market participants.
The Move to T+1
In order to move to T+1, industry participants must align and agree to shorten the settlement cycle by implementing the necessary operational and business changes, and regulators must be engaged. DTCC does not have the regulatory or legal authority to unilaterally change the settlement cycle. Despite this, DTCC continues to take a leadership position to shorten the settlement cycle to T+1, similar to the role it played in 2017 to move to T+2.
Based on extensive industry engagement conducted throughout 2020, early indications suggest that market participants increasingly favor the move to T+1 to take advantage of capital and operational efficiencies, and benefit from significant risk reduction and a lowering of margin requirements, especially during times of high volatility and stressed markets. Based on simulations detailed in the paper, DTCC estimates that a move to T+1 could bring a 41% reduction in the volatility component of NSCC's margin.
"The time to settlement equals counterparty risk, which can become elevated during market shocks. It can also lead to the need for higher margin requirements, which are critical to protecting the financial system and investors against a firm default," said Murray Pozmanter, Head of Clearing Agency Services and Global Business Operations at DTCC. "We have been working collaboratively with a wide cross section of the industry to build support for further shortening the current settlement cycle over the past year, and we have outlined a plan to increase these efforts to forge consensus on setting a firm date and approach to achieve T+1."
Steps to Achieve T+1
The paper comes as part of DTCC's next phase in its strategy to advance discussions around the move to T+1. Key dates proposed include:
Q1 2021: DTCC anticipates completion of prototype development for the Project Ion settlement system, which provides a T+1 environment for the industry on a digital platform using distributed ledger technology (DLT) and other emerging technologies. Industry testing will begin shortly after the prototype is completed.
H2 2022: DTCC to begin transitioning to an enhanced settlement model that more closely integrates processes from DTCC's equities clearing and settlement subsidiaries, NSCC and DTC. Studies have shown an integrated settlement model could provide an 11% reduction in the volatility component of NSCC margin.
By 2023: DTCC proposes the S. settlement cycle to officially move to T+1, with market participant and regulator alignment.
These steps will complement DTCC's prior efforts to further optimize current processes and increase settlement efficiency, such as the re-engineering of night cycle processing, which was completed last year.
While NSCC and DTC can support T+1 and even same-day (T+0) settlement today using existing technology, the current T+2 settlement cycle is a convention of market practice, and shortening that period as regular-way for all market participants will require industry coordination.
"As the industry continues to align itself around shortening the settlement cycle, DTCC has proactively begun laying the foundation and is ready to move quickly for the eventual move to T+1," said Michael McClain, Managing Director and General Manager of Equity Clearing and DTC Settlement Services at DTCC. "We remain committed to working with the industry, regulators and key stakeholders to shape the future of clearance systems and all the exciting possibilities they could bring – from reduced risk and costs, to improved business resilience and increased operational efficiencies."
Barriers to Netted T+0 and Real-Time Gross Settlement
In the paper, DTCC also outlines the feedback it has received from clients regarding barriers to netted T+0 and real-time gross settlement, including: 
The paper states that many of these issues apply solely to T+0 settlement, and a move to T+1 would not require large operational or technical changes by market participants, nor would it cause fragmentation and risk to the core clearance and settlement ecosystem. With a move to T+1, the industry can retain the core benefits of DTCC's centralized netting and risk management, while moving to a shorter settlement time.
To become an active part of the industry conversations that DTCC is leading, please contact DTCC at [email protected].