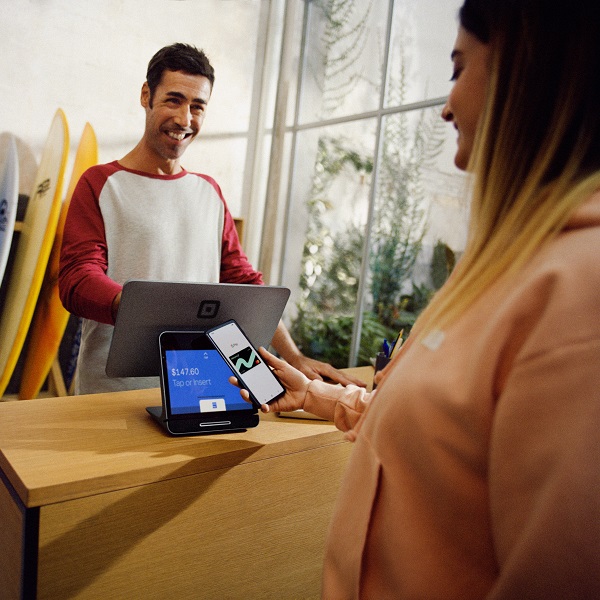 Square expands Afterpay integration to in-person points of sale
Today, Square marks another key milestone in its integration of Afterpay, extending buy now, pay later (BNPL) functionality to its millions of in-person sellers in the United States and Australia. Just three months after first bringing Afterpay into the Square ecosystem with e-commerce integration, Square and Afterpay moved swiftly to unlock the ability for sellers using any Square point of sale software – Square Point of Sale, Square for Retail, Square Appointments, or Square for Restaurants – to now offer Afterpay across online and in-person commerce.
To use Afterpay in-person, buyers simply tap to pay using a mobile wallet loaded with their virtual Afterpay card, and pay over four interest-free installments. Square sellers receive their full earnings from each sale immediately.
In their first quarter together, a combined Square and Afterpay has already proven to attract new shoppers and drive incremental revenue for sellers of all sizes. Sellers using Square Online are seeing the following impact for their businesses:
Transaction sizes are up: Across both the US and Australia, average transaction size with Afterpay is 3x greater than non-BNPL purchases.
Rapid growth in buyers: Globally, we observed a 180% increase in new consumers leveraging Afterpay through Square sellers between February and March 2022.
Meaningful growth among key merchant categories:

In the US, retail businesses that offered Afterpay as a payments option on their website are seeing a meaningful lift in overall online sales, with men's and women's clothing stores growing 17%; specialized apparel and accessories, 15%; pet stores, 13%; sporting goods stores, 12%; and jewelry and watch shops, 10%.
In both countries, beauty and personal care businesses saw significant upticks in online sales, registering a 26% increase in Australia and a 16% increase in the U.S.
This growth is already extending to in-person commerce; during the beta period, average order value (AOV) for in-person Afterpay purchases more than doubled in Australia, while in the US orders averaged a 50% increase.
To further sales growth, Square sellers will be discoverable in Afterpay's Shop Directory, a marketplace available both online and from the Afterpay app that showcases sellers offering Afterpay. Shop Directory supplies hundreds of millions of leads per year to sellers and gives buyers the ability to search for Square sellers near them making it easier to shop and support local small businesses. 
"Adding Afterpay to Square's in-person commerce software furthers our goal to give all sellers omnichannel tools that unlock new growth opportunities for them," said Alyssa Henry, Head of Square. "Omnichannel isn't just about selling across multiple channels, it's about meeting your consumers' shopping habits, whatever and wherever they are. Afterpay adds an omnichannel tool to our ecosystem that our sellers haven't typically had access to. For sellers of all sizes, Afterpay has proven to be more than just a new payment method; rather it serves as an omnichannel commerce solution that can offer meaningful value and growth to sellers."
"Our buyers are young, high-intent consumers who prefer Afterpay and quickly become repeat customers for our merchant partners," said Nick Molnar, Afterpay Lead at Square. "Together, Afterpay and Square can help sellers of all sizes capture the next generation shopper and compete at a larger scale."
Square sellers can enable Afterpay starting today and try BNPL at promotional rates until September 10. Automatic enablement will roll out to eligible Square sellers over the following weeks, and Afterpay can be easily toggled on or off via sellers' Square Dashboard at any time. For more information, visit www.squareup.com/buy-now-pay-later.