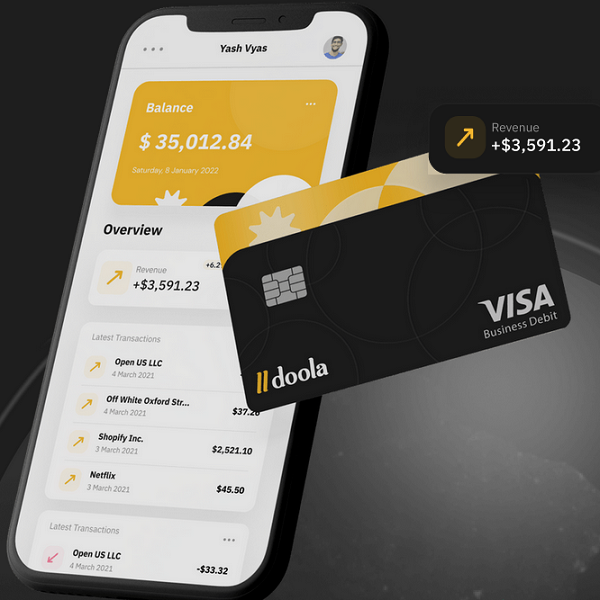 Doola launches banking product for global businesses
Doola have launched a banking product for global businesses that will allow founders to open a US bank account, remotely, from any continent, with no US Social Security Number required. Founders globally can now register an LLC, DAO LLC, or C Corp through doola, get an EIN (employer identification number) from the IRS with doola, and open a US bank account with doola. It doesn't stop there: doola also provides ongoing compliance with the state and IRS to keep companies compliant, making doola an all-in-one platform for founders to launch, maintain and grow their US business.
Doola's banking product will include a business checking account along with domestic and international wire transfers, virtual cards, a physical debit card that is mailed to founders anywhere in the world, tools and features to seamlessly integrate with your US entity, and more.
"For any business, whether it's a venture-backed SaaS startup with a Delaware C Corp or a solopreneur bootstrapping an e-commerce business, having a trustworthy, stable, and scalable banking + payments stack is critical. Through doola, international founders can seamlessly access the US financial ecosystem, including US banking, US payment solutions, US venture capital, and more," said Jacqueline Reses, an investor in doola, Chairman of the Economic Development Council at Federal Reserve Bank of San Francisco, and Former Head of Square Capital.
Arjun Mahadevan, CEO of doola said, "From day 1, we've known that doola is not a formation service. We're a fintech company. Founders globally don't actually want a company; they want a way to accept payments globally in the US dollar, or accept investment from US investors. doola Banking makes our platform the fastest way to go from formation to accepting your first payment/deposit globally. Why? Because we do it all in-house. It's click button, get company + EIN + bank account, and ongoing compliance including state + IRS filings are taken care of. As our customers like to say, we're a Business-in-a-Box."