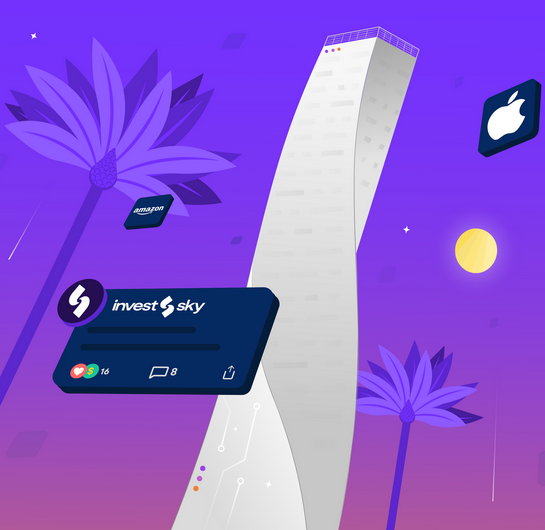 UAE Fintech InvestSky partners with Alpaca to launch Social Investing Platform
Dubai fintech InvestSky is a social investing platform that offers a new generation of investors the opportunity to embark on trading stocks in a more inclusive, intuitive and informed way.
InvestSky chose Alpaca due to its ability to provide an unparalleled brokerage as a service platform. InvestSky leverages Alpaca Broker API suite of brokerage, custody, and post-trade solutions to offer seamless onboarding, trading, and investing to retail investors in the UAE.
InvestSky, was established in 2021 by Nitish Mittal and Turki Alshaikh to help remove the challenges and hurdles of investing for non-professionals and make the process as seamless as possible. They planned to achieve this by launching InvestSky to empower non-professional investors to make sound investment decisions by leveraging socially connected tools with a collaborative and community-driven approach.
Nittesh Mittal, Founder and CEO at InvestSky said, "Using our detailed understanding of our target customer, we are combining a commission-free brokerage model with an ecosystem that activates, educates and retains customers through engagement with the community. In addition, we have built a one-step solution for a deep dive on any listing with all the premium data points presented in a super-friendly user experience so that investors on our platform never invest in the dark."
InvestSky is on a mission to launch MENA's first social investing platform by providing intelligent and simplified access to the global stock market to underserved retail investors in core and frontier markets across the region.
The company aims to expand to the entire Gulf Cooperation Council (GCC) region while continually enhancing the platform's regions to enable users to access the tools and information they need.
Via the InvestSky platform, users can trade over 5000+ US stocks and ETFs starting from $1 on a commission-free basis with no hidden fees. Users can build a portfolio, craft watchlists, and experiment to make their own investment story. They can also join a powerful social investor community, exchange ideas, and learn how others invest.
Commenting on the partnership with Alpaca, InvestSky Co-Founder Turki Alshaikh said, "We chose to partner with Alpaca for many reasons. Still we want to highlight Alpaca's ability to differentiate as an API-first company and provide an unparalleled brokerage as a service to InvestSky."