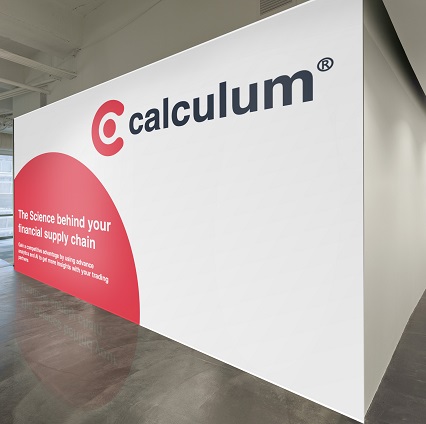 Vestigo Ventures invests in Calculum, First AI-Driven treasury solution to optimize working capital
Global economic and geopolitical shifts have made optimizing supply chains and working capital among the highest priorities discussed in board meetings. Calculum, headquartered in Miami, is addressing this universal problem with the first artificial intelligence (AI)-driven treasury solution to help companies optimize payment terms, free up cash flow, and improve sustainability.
Vestigo Ventures, a leading investor in the fintech market, recently led the seed round, with participation from Nevcaut Ventures, Revolution's Rise of the Rest Seed Fund, XBTO Humla Ventures, and KD Venture Partners. Calculum is a fintech Data-as-a-Service (DaaS) company, leveraging advanced analytics, proprietary data assets, and AI to transform the way organizations select suppliers, negotiate terms, assess the risk of supply chain disruptions, and ultimately, optimize working capital. The company recently earned the *Working Capital Innovation Award.
Calculum's primary goal is to help businesses optimize overall company performance based on their financial supply chains. Today, Calculum counts several large multinational companies among its clients and has data on more than a million suppliers with the ability to cover up to 100% of a typical corporation's global supplier list. "On average, Calculum's ADA Platform identifies up to 20% in free cash flow for every supplier spend volume analyzed," says Oliver Belin, founder, and CEO of Calculum. "We provide insights enabling treasury and procurement teams to compare with their peers and find pockets of opportunity right down to the supplier level. We then deliver automated scripts tailored to each supplier that include all the necessary arguments teams need to negotiate better terms with confidence and gain a competitive advantage."
"Calculating and negotiating the most favorable payment terms between suppliers can optimize working capital, increase margins, and reduce risks and costs for businesses across the globe," said Mike Nugent, managing director at Vestigo Ventures. "Particularly now, in an environment of elevated interest rates and borrowing costs, Calculum's AI-driven treasury solution is the technology that finance, procurement, and supply chain executives need to generate free cash flow."
Payment terms form an integral part of any business-to-business (B2B) relationship, affecting cash flow, profitability, sales growth, credit, and supply risk with an impact on a company's shareholder value. Whether a company has 50, 500, or 50,000 suppliers, Calculum's technology can slice the data in a myriad of ways and generate customized programs based on the goals of treasury and procurement teams. Leveraging AI, Calculum also performs consistent data enhancement and normalization, providing enriched insights in real-time.
In KPMG's 2022 Global Supply Chain Trends Survey, 53% of organizations plan to increase their focus on sustainable sourcing. "ESG is becoming an increasingly important factor in procurement negotiations," said Belin. "Using Calculum, procurement, and treasury teams can collaborate on optimizing terms aligned to the ESG ratings of their suppliers in any given country and industry. They can benchmark their terms versus peers and have all essential data such as credit ratings and commodity information at their fingertips."
"Calculum's AI-driven technology can help every company achieve a microunderstanding of their financial supply chain and cash flow position," says Nugent. "It helps companies take control of their working capital, not just as a project, but as an embedded, enterprise-wide process. It's the competitive edge that companies need today to ensure future success."