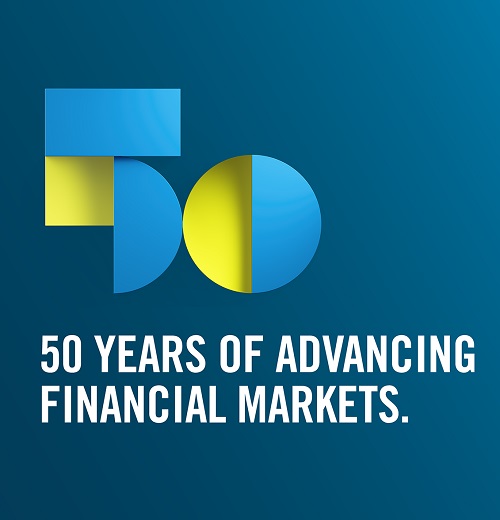 DTCC celebrates 50th anniversary as critical market infrastructure provider to the global financial services industry
The Depository Trust & Clearing Corporation (DTCC), the premier post-trade market infrastructure for the global financial services industry, today announced its 50th year in serving the financial markets, protecting and safeguarding the system, delivering value to the industry and clients and launching products and services that mitigate risk and increase efficiencies.
"DTCC has a rich history of industry stewardship and has earned the trust of our stakeholders by providing certainty and stability to the system, managing through global crises and seamlessly executing every day," said Frank La Salla, DTCC's President and CEO. "On our 50th anniversary, we look to the future and reinforce our commitment to build upon that legacy by purposefully innovating and leading on initiatives that enhance the operational side of market structure and make the financial system more resilient."
Today, DTCC is working closely with industry stakeholders on key initiatives, including the transition to a T+1 settlement cycle in the U.S., providing solutions in support of regulatory mandates such as LIBOR cessation and global trade reporting, and innovating and modernizing the technology powering global financial infrastructure. The firm also continues to explore how the newest technologies can enhance how markets function, the role of infrastructure providers as the digital landscape evolves, and how transaction processing data can provide new insights and help clients achieve optimum performance.
"DTCC has been reducing risk and protecting markets for five decades. We deeply value their expertise and continued collaboration with the securities industry as we work together to optimize market efficiency and liquidity," said Kenneth E. Bentsen, Jr., President and CEO, SIFMA. "As DTCC celebrates this important milestone, we congratulate the entire DTCC team."
Born out of the paperwork crisis of the late 1960s and early 1970s, the firm has grown from one office in New York City to 20 locations around the globe, with the organization processing securities transactions valued at U.S. $2.5 quadrillion in 2022 alone. During its history, the firm:
created a book entry system for the U.S. securities marketplace, effectively launching the modern financial services infrastructure.

introduced multi-lateral netting, which significantly streamlined settlement and reduced risk.

automated clearing and settlement of trades in U.S. Treasuries and mortgage-backed securities in the world's largest fixed income market.

delivered greater efficiency, cost savings and risk mitigation to institutional trading and investors.
"In its five decades of existence, DTCC has been critical to the development and resilience of the capital markets in the U.S. and globally. The futures markets have benefited from DTCC's partnership throughout these years, and I am confident that DTCC will remain at the center of thought-leadership as our markets continue to grow," said Walt Lukken, President and CEO of FIA. "FIA congratulates the entire DTCC team and looks forward to the decades ahead of continued success, innovation and leadership."
"DTCC is a special organization with a purpose-driven culture that is embraced by our employees and helps drive our success," added La Salla. "The best way we can honor our legacy is by acting now to accelerate our evolution and position DTCC for a new era of industry leadership. It's an honor to lead DTCC during this time, and I want to thank all our stakeholders – past and present – for their support and contributions to the firm's longevity and success."