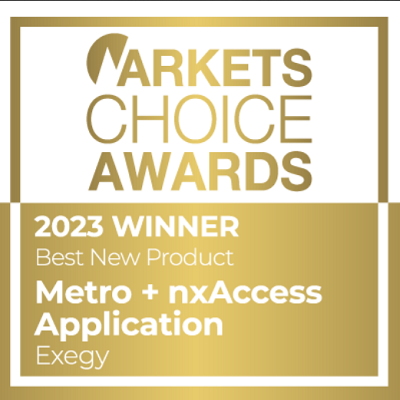 Exegy innovation wins Best New Product award
Exegy's continued product integration and the drive to bring innovation to capital markets has been recognized with an award win for an enhancement to its trading platform. The integration of the Metro trading platform and nxAccess FPGA-based trading engine has been named Best New Product at the 11th Annual Markets Choice Awards. The awards are the result of online voting by the Markets Media community and recognize the best offerings in trading, execution, exchanges and trading platforms, technology providers, and emerging fintech firms.
The integration is an example of the benefits Exegy will continue to deliver to its customers as its best-of-breed applications become fully integrated, said the company's Chief Product Officer, Arnaud Derasse. It enhances Exegy's Metro derivatives trading platform with embedded FPGA-accelerated cancel functionality, allowing for sub-400ns tick-to-cancel latency. Customers trading via Metro on the CME can add this new functionality.
"At Exegy, we're focused on solving the most pressing problems facing market participants," Derasse said. "In today's volatile derivatives markets, traders must be able to exit positions faster if the market moves against them."
Derasse added, "We see more opportunities to incorporate sophisticated features from our most high-performing technology into a range of Exegy solutions, giving them a significant boost over competing products."
Exegy Chief Executive Officer David Taylor said the enhancement to Metro is "exactly the type of synergy we anticipated when we acquired Enyx last year."
He noted, "This recognition from independent judges and the market is an exciting development for us, and we're delighted to have won the Markets Choice Award, which underscores the value we bring to the market."
Both Derasse and Taylor said advancements like the Metro-nxAccess integration wouldn't be possible without Exegy's continued partnership with its clients, some of whom were the company's guests at the awards ceremony. "We work continuously with our customers to align our strategy and operations with their business goals to increase the value we deliver to them," Taylor said. "Our relentless commitment to innovation is guided by our corporate culture of customer-centricity and curiosity."